Hertfordshire is taking affirmative action to tackle the climate crisis and help businesses further along the net-zero pathway. Here we look at the transformative steps taken, what this means for our future communities and what steps you can take now to minimise your impact on the environment.
In 2019, Hertfordshire County Council declared a climate emergency and called for immediate action. Its Sustainable Hertfordshire Strategy and Action Plan set out a route-map to becoming carbon neutral by 2030 by reducing emissions and ultimately improving the quality of life of residents and their local environment.
1. Lead in its own operations such as; how it provides services and manages its buildings.
As one of the largest employers in Hertfordshire with responsibility for around 80 per cent of services including schools, social services, public transportation, highways, waste disposal and trading standards, the county council has a duty to set an example.
It recently secured £23.5m from the Government's £932m funding pot to reduce carbon emissions from public buildings including hospitals, schools and council buildings. The Public Sector Decarbonisation Scheme funds low carbon heating systems, such as heat pumps, and energy efficiency measures like insulation and LED lighting.
This award will give businesses confidence that Hertfordshire is committed to investing in green technology. Supporting construction and manufacturing sectors towards a more competitive and sustainable future. It will also encourage the growth of new, low carbon industries in the county, creating skilled jobs and businesses and enabling Hertfordshire to build back better, greener and faster.
The county council has also secured an £18,000 grant as part of the Local Government Association's Net Zero Innovation Programme. Councils and universities can apply to the Programme to address climate challenges at a local level.
An example of this partnership in action and how it can support the local community is the recent collaboration between the University of Hertfordshire and the county council. By collecting and analysing care home data, they are able to identify areas for improved energy solutions, helping the home to operate more sustainably and manage this cost effectively.
2. Enable sustainability with its programmes, policies and decisions.
For change to happen, a collaborative approach needs to be taken across the county. March 2020 saw the creation of the Hertfordshire Climate Change and Sustainability Partnership, made up of the county council, the 10 district and borough councils and Hertfordshire Local Enterprise Partnership (members of the Hertfordshire Growth Board).

In its first year, the partnership agreed priorities for countywide projects and detailed action plans are being prepared to support four key themes: water, biodiversity, transport and carbon reduction.
3. Inspire businesses and residents to take action.
In leading by example, Hertfordshire is inspiring businesses and residents to take action. Working in tandem with Hertfordshire Local Enterprise Partnership, the county council is supporting businesses as they transition to meet the UK's net zero targets. Businesses can access help, including green grants, advice on reducing their carbon footprint and how to take sustainability actions by visiting Hertfordshire Growth Hub – https://hertsgrowthhub.com/.
Not only is taking sustainability action the right thing to do, but it can result in a significant competitive advantage. Increasingly, businesses now need to demonstrate to their customers and clients' tangible commitments to Net Zero goals. Businesses are often surprised by the actual cost savings made by taking environmental action along with the less tangible benefits of staff engagement and talent retention. New ways of thinking on how to do things differently, cleaner and greener, can lead to product and process innovation and growth opportunities.
In addition to working with districts and borough councils, the county council is actively engaging with landowners, farmers, local businesses and other organisations to ensure that sustainability remains a key priority. Social media campaigns and a residents' survey are all helping to encourage people to lead more sustainable lives.
In recognition of the UK hosting the United Nations Climate Change Conference, also known as COP26, in Glasgow this November, Hertfordshire is planning its own climate summit. Hertfordshire COP26 will be a virtual event with some live local activity across the county, spanning several days (1-5 November) to demonstrate how climate change is affecting Hertfordshire and how we are all working together in our race to zero.
For top tips on how your business can help achieve a more sustainable Hertfordshire, read this month's edition of the Herts Chamber magazine (pg44).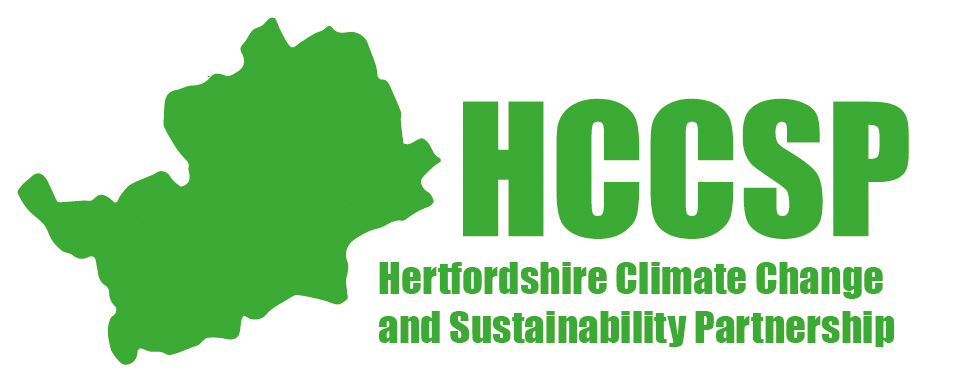 Hertfordshire Growth Board is working closely with the Hertfordshire Climate Change and Sustainability Partnership to deliver climate change action, reduce the carbon footprint and achieve lasting sustainable change. Find out more: www.hccsp.org.uk